STAR COLLECTOR: ALASKA CROSSING FROM JAPAN
on Star Breeze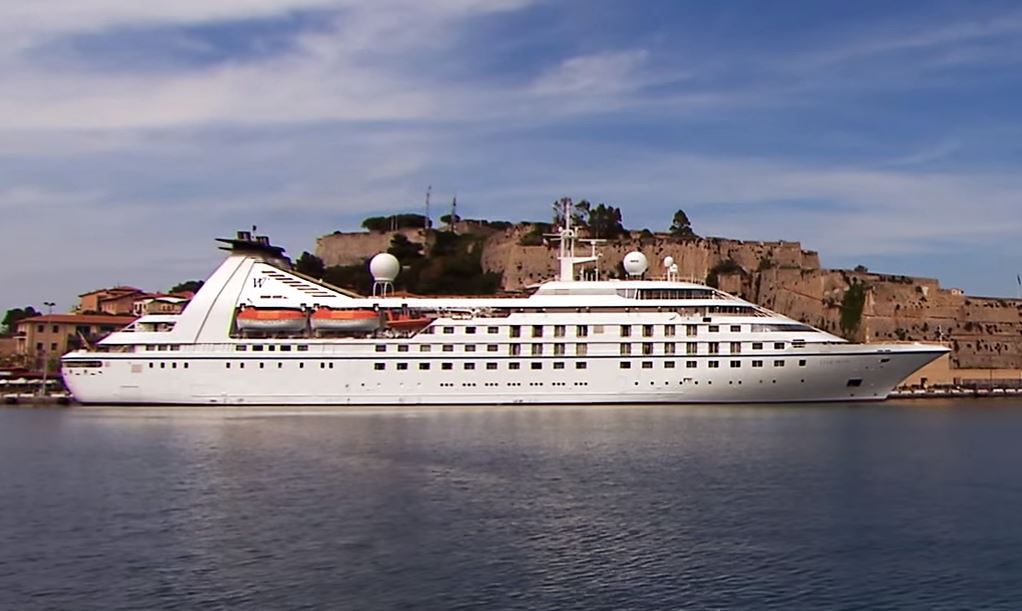 Spend 27 exhilarating days on both sides of the International Date Line among North American wildlife like bears, moose and caribou, calving glaciers in the Tracy and Endicott Arms, and stunning Japanese parks including the crater lake in Akan National Park in Kushiro. Your memorable Pacific port stops include Vancouver, Canada, 11 visits throughout Alaska and the Aleutians, and the final three stops on the other side of the international date line in Kushiro, Miyako, and Tokyo, Japan.

THE WORLD'S BEST SMALL SHIP CRUISE LINE
NO ONE ELSE GOES SO FAR TO GET TRAVELERS SO CLOSE …
You're closer to secluded coves, tiny villages, misty fjords. To ancient ruins, medieval alleyways, quaint marinas. To unspoiled beaches, unfamiliar cultures, undiscovered atolls. To enlivening your curiosity and awakening your sense of wonder. You're closer than ever to the kind of authentic and unforgettable experiences that you travel to find in the first
...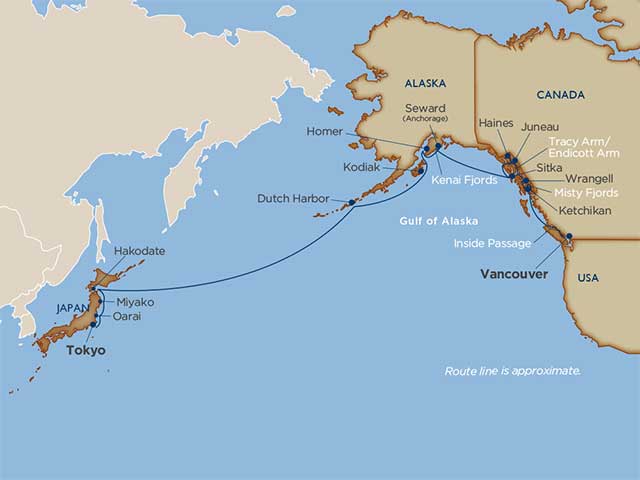 | Day | Port | Arrive | Depart |
| --- | --- | --- | --- |
| 1 | Tokyo, Japan | | 4:00 PM |
| 2 | Oarai, Japan | 8:00 AM | 3:00 PM |
| 3 | Miyako, Japan | 10:00 AM | 5:00 PM |
| 4 | Hakodate, Japan | 7:00 AM | 5:00 PM |
| 5 | At Sea | | |
| 6 | At Sea | | |
| 7 | At Sea | | |
| 8 | At Sea | | |
| 9 | International Dateline, At Sea | 12:01 AM | 11:59 PM |
| 10 | At Sea | | |
| 11 | Dutch Harbor, United States | 7:00 AM | 3:30 PM |
| 12 | At Sea | | |
| 13 | Kodiak, United States | 1:00 PM | 8:00 PM |
| 14 | Homer, Ak, United States | 9:00 AM | 5:00 PM |
| 15 | Seward, Anchorage, Alaska, United States | 8:00 AM | 10:00 PM |
| 16 | Kenai Fjords National Park, Ak, Cruising | 7:00 AM | 5:30 PM |
| 17 | At Sea | | |
| 18 | Sitka, Ak, United States | 9:00 AM | 4:00 PM |
| 19 | Cruising Tracy Arm, Cruising | 7:00 AM | 6:00 PM |
| 20 | Haines, Ak, United States | 6:00 AM | 6:00 PM |
| 21 | Juneau, Ak, United States | 7:00 AM | 5:00 PM |
| 22 | Wrangell, Ak, United States | 12:00 AM | 7:00 PM |
| 23 | Cruising Misty Fjords, Ak, Cruising | 9:00 AM | 6:00 PM |
| 24 | Ketchikan, Ak, United States | 6:00 AM | 2:00 PM |
| 25 | Transit Seymour Narrow, Cruising | 11:47 PM | 11:48 PM |
| 26 | Vancouver, Bc, Canada | 8:00 AM | |